So Different, We Dare You to Compare
Surprise, surprise! When visiting most model homes, we get excited by the craftsmanship, material selection and overall appearance. Then, when we sit down with the builder, we learn that much of what we liked in that model home is considered an upgrade and will cost a great deal more than we expected or budgeted for.
No Hidden Costs
At Affinity Elite, there are no costly surprises. Our customers will not find hidden costs or extras of any kind. That's because of our "What You See is What You Get" philosophy. What you saw in viewing our model homes, is what you can expect in your new home. While you can make changes if you wish, you will not feel the need to upgrade everything during or after the construction of your new home. To see just how different Affinity is from other builders, ask us how our construction and services are superior to other builders.
Standard Features
Here is a list of guaranteed standard features available with our home construction services:
10-yr Rubberwall waterproofing
Nailed, glued, screwed floor joints
5 Roughed-in cable jacks
5 Roughed-in phone jacks
Roughed-in alarm
Roughed-in central vac
Round drywall corners
Glass railing
Wood trim
custom hung doors
2 Paint colours (white ceilings)
Insulated garage door
Address stone
Hot / cold taps in garage
Exterior lights at all doors
Upgraded kitchen
Easy flow plumbing lines
Upgraded plumbing fixtures
Clay Brick
25-yr Window Warranty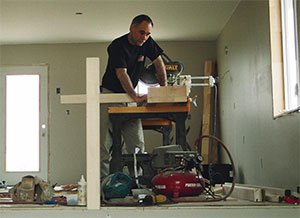 Extensive Experience
It was not by trial and error that Affinity Elite owner, Vince Russo became a premier builder. He was born into the business and learned it from the ground up. His father's passion for his work and work ethics, inspired Vince to become well known and trusted for placing the needs of his clients first and for building custom homes of outstanding quality. As President of Affinity Elite, Vince understands how important your new home is to you. His years of experience, certificate of engineering and degree in urban planning, help to ensure you get the best for their money.
Team Work
Vince's wife Rose, handles all of the administration for the company, leaving him free to be fully involved with the clients. Working with a group of carefully selected trades people and suppliers who have been with the company since inception, is a major part of the company's success. Everyone on the Affinity team shares Vince's philosophy of making sure that the client is the number one priority.