Building a custom home might seem daunting, but for many homeowners, it is a process that is worth all the efforts and decisions when they see the final product. Employing a custom homebuilder results in a fully customized living space built around your family and your lifestyle.
The first step towards owning a custom-built home is being aware of the custom homebuilding process and understanding what roles your builder performs in designing and constructing your home. In some cases, each of these steps is the responsibility of an individual professional. Choosing a broad-range builder such as Affinity Elite Custom Home Builders, however, means that all your services are provided by one person. This allows your builder to be become acquainted with you, your lifestyle, and the needs of your family, resulting in a custom home that is uniquely yours.
Development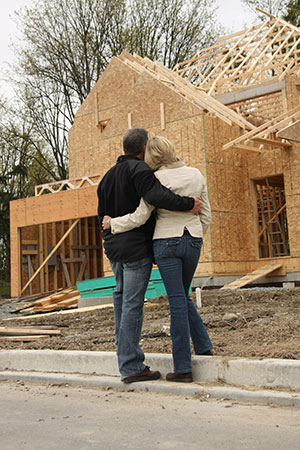 The development stage may also be known as a community planning. At this stage, land is purchased, subdivided and made suitable for building. Development involves obtaining permits and zoning so that the property is legal for the type of residential building that will be constructed on it. This stage includes ensuring the lots are properly serviced by mapping out streets, sewer systems, and utility connections. Once these necessities are taken care of, physical development begins with having the land properly graded for drainage, reinforced for erosion prevention, cleared of obstructions such as trees and large boulders, and preparing the lots for construction.
Architectural Design
Architectural planning involves designing the structure of the home. A floor plan is created incorporating all the features desired in a modern house, in a layout that is functional and adequate for the size of the home. Architectural design includes planning for things that we may not even be aware of including lot size and required setbacks, the characteristics of the building site, and matching the value of the home to the rest of the neighborhood. When deciding how to divide up space within a home the architectural design also takes into consideration such things as storage space, number of bathrooms, location of certain rooms in relation to others, and natural light. Building details which ensure the safe construction of the home are also designed and detailed during the architectural design stage.
General Contractor Duties
The company or building firm you hire to oversee construction acts as your general contractor. It's their responsibility to hire and organize the sub-trades, and create and maintain a building schedule for construction. General contracting involves making sure that each trade is on site performing their part of the construction at the right time and in the right order. Your builder will make sure the tradesmen work within their portion of the budget and that the work is completed within a certain time frame for proper completion. As each trade completes their stage of work, the builder is also responsible for quality control and scheduling building inspections.
Interior Design
You may or may not have an interior designer working with you. Often, the custom home builder takes on a certain amount of responsibility for this role working with you to choose the finishing touches for the inside of your home. Your builder helps select the materials, both raw and finished, that are used in the construction and interior design of your home. Generally, interior design means working with finishing materials, but with the increase of healthy home building practices, raw materials are also carefully considered for both practical and esthetic results. Interior design selection includes everything from the colour of siding or brick, the style of windows, and interior finishes, to appliances and lighting fixtures. The list will also include plumbing fixtures, kitchen cabinets, flooring (vinyl, carpet, tile and laminates), paint colours, and home automation or security systems. Once all the decisions are made, the material lists may be passed onto the sub-trades in charge of those items.
Sub-Contractors
These are the tradesmen who actually perform the physical work of constructing and assembling your home once all the design decisions are complete. Each of them is skilled in a very specific portion of the construction process. Listed are just some of the trades that are part of the homebuilding process.
• Excavation and Site Preparation
• Foundation – foundations and basements
• Carpenters – framing walls, roofing, windows and exterior doors
• Masons – Concrete block and brickwork
• HVAC – heating and cooling, insulation, ventilation
• Electrical
• Plumbing
• Drywall
• Painters
• Cabinetry
• Flooring
• Landscapers
Inspection
At least two inspections will be performed during the construction process. Inspectors make sure that each component of your new home has been constructed or installed properly without interference from another system, that interacting systems work together properly, and that the house is safe, sturdy and clean. Inspectors ensure that homes are built according to local building codes, and that none of the trades have left you with shoddy or incomplete work. Inspections must be completed at key stages of the construction and work may have to be suspended until the inspection is complete. If the inspector finds something lacking in any of the construction elements or systems, the sub-contractor may be asked to re-do part of the work, remove and replace, reinforce, or use a different method to reach the desired result. Once all the inspections are completed (and passed!) the inspector issues a certificate of completion.
… And congratulations! Your home is complete. Now you can move in and enjoy the rewarded for all your planning, decisions and design selections. Your new custom home will offer you years of enjoyment with all the latest elements of energy efficiency, modern style and room to live your life they way you want.