10 Elements You Should Design For The Future
When designing a home, people often create a plan that meets their needs and wants right now. However, little consideration is put into the future and how your home will be able to adapt. Certain elements are easy to change. New window coverings, changing doorknobs, and re-painting are fairly easy updates. Some elements are more permanent or may require a little forethought to make sure your house won't have to undergo major changes later. Here are a few points to consider for making your home ready for the future.

1) Flooring
Flooring fashions are changing all the time. Remember shag carpet? Today, both home builders and consumers generally prefer high quality laminates, tiles and other eco-friendly floorings such as cork. Although many people are moving away from carpet due to allergens and cleanliness issues, there are still many who prefer it in certain areas of their home. Carpet is fairly easy to change out when it comes to updating. Tile, however, can present more of an "update nightmare."
Carpet, linoleum, and some laminates are all fairly easy to pull up and replace compared to tile or stone flooring which is cemented or mortared into place
If you want tile, choose a neutral tone that can be accented by your wall colour. Many neutral tiles are marbled with reds, greens or blues that can complement your accent colour. Choosing a dark tile (black or forest green) or a bright coloured tile (red or yellow) can make it much harder to update later.
Choose flooring based on your lifestyle. For example, if you have dogs or kids, white carpet is definitely a no no.
2) Paint / Wall Coverings
Paint is an easy way to change the decor of a room. Although painting may feel like a big job while you're doing it, it is a cost-effective way to be able to update in the future. Wall coverings, whether fabric, cork, wallpaper, bamboo and others, may be difficult to remove in the future. Wall coverings that are not installed properly can sag, bubble, lift or peel around the edges and become tired looking very quickly. Wall covering that adheres too well can result in wall damage when it comes time to remove it.
3) Kitchens
A kitchen presents a lot of opportunities for designing to your taste. You get to choose fixtures, appliances, cupboards, countertops, flooring and much much more. The hardest part is not only coordinating it, but making it fit for future changes. Almost everyone remembers at least one Mom on the block who had an avocado green fridge. But when avocado went out of style, the fridge made the entire kitchen look outdated.
Choose major appliances in stainless steel, white or even black, all of which can be coordinated with almost any accent colour.
Opt for neutral tiles or flooring that have a touch or marbling in the accent colour of your choice
Whether dark or light wood is your preference, select cupboards and countertops that will coordinate with a variety of fixtures or colours.
Sinks and fixtures with smooth lines will be more likely to stand the test of timelessness. Avoid antiqued or overly sculpted fixtures that are hard to clean and may become outdated quickly
Add accent colours to your kitchen with small appliances in bright colors. A red toaster is much easier and inexpensive to change later, but can be an eye-catching addition
4) Technology, Media, and Communications
Have you ever been frustrated with that 40-foot data cable that snakes through your house from the family room to the kids' room? More often, home builders are installing extra data cables for future use. Adding a pre-installed data conduit can save you a lot of headaches later when you decide to put a TV in the garage, a computer in the kitchen, or surround sound in the family room. Think carefully about where technology may be headed when planning the communication wiring for your home.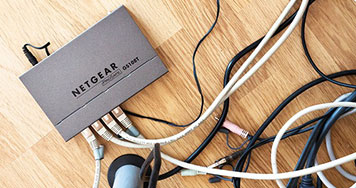 Data and ethernet lines
Cable TV
Smart home control panels
Sound systems
Alarm system
Digital optics
5) Closets
"We have too much closet space!" said no one, ever. When it comes to closets, it's better to have more than you need than not enough. These days, people have more and more stuff. We also need a place to store all that stuff. Extra closet space will never go to waste – ever.
A laundry room closet is a great place to store cleaning products, vacuums, extra light bulbs, older towels for dirty duties, and is easier to secure so that dangerous substances are out of reach of small children
An entry way closet presents a great opportunity to remove wet, muddy or snowy wear before it's tracked through the house
Linen closets should be located within or close to all bathrooms and bedrooms for storage of bedsheets, blankets, and extra pillows, in addition to towels.
A closet in every room has a purpose – games and toys in the family room; brooms, dustpans, and bulk food in the kitchen; school bags, computer accessories, and office supplies in the den
6) Utilities Access
No one ever thinks about the day they'll have to replace their furnace, central vac, or water heater. But they all have to go sometime. When that time does come, how difficult will it be to access the necessary equipment for removal or repairs. Building a furnace into a neat little niche is fine, but will the repair man be able to squeeze between the wall and the water heater to get to it? Will you have to remove one system to gain access to another?
Don't forget about ductwork. Even if you don't need it now, make sure that it can be easily accessed or extended for later expansion. Areas like rumpus rooms above the garage can become awesome additions as long as you have the ability to provide them with heat or air conditioning later.
Install panels near crucial plumbing areas to provide easy access in repair or emergency situations
Paneled ceilings in basements or lower levels can provide easy access to the space between floors when adding wiring, cables, plumbing, ductwork and much more
7) Electrical
Too often, people underestimate their future electrical needs. It's unlikely that you will under-size your electrical panel – your electrician will make sure of that. However, when it comes to being able to use that power, there never seems to be enough outlets. Building regulations dictate the minimum of outlets required in certain rooms, but it never hurts to add an extra one here or there. It might be difficult to add them later.
Install outlets in spaces that might seem unlikely – a large closet, an extra one in kitchens or large bathrooms, the ceiling of the garage
Install wiring to places where you might add lighting in the future such as inside a closet
Floor outlets can be the perfect solution in large rooms where you may need lamps or other electrical appliances in the middle of the room – just make sure they have covers
8) Aging
Most people assume they will move into more appropriate housing as they age. Downsizing to a one-level ranch or a condo is great if you don't mind moving. If you plan on staying where you are for a long time, consider how senior-citizen friendly your house will be in those years down the road. Wide doorways help accommodate walkers and mobility aids. Plan a space for your washer and dryer on the main level in the event that your basement may one day be off limits. Consider wider stairs with deep treads and gentler slopes.
9) Family Changes
In addition to the future of decorating fads and advancing technology, don't forget to make decisions based on changes in your family situation. Young couples may want to plan for children they don't have yet. Parents with teens have to face the empty nest phase that may be coming. Older couples may want to discuss the reality of being the "sandwich" generation – with adult children who return home or elderly parents who can't live alone but aren't ready for the nursing home just yet.
10) Resale
At some point, every home will go on the market – whether you plan on it or not. Your company might transfer you, you might get sick and have to downsize, or you just might change your lifestyle. Whatever your reason for selling, you don't want to get stuck with the proverbial white elephant just because your taste is a little too "unique." It's great to decorate our homes the way we want and to express ourselves, but there are many ways to do that without going over the top. Ultra unique fixtures may look glamorous but lack the practicality sought by others.